So along with trying to get my ravelry and sidebar up to date (not all my projects, just since the last time I brought them up to date), I figured I'd update here also.
I had some people over yesterday (monday) that helped with the kids and socialized with me. While they were here I managed to get some crafty stuff done.
I finished these socks:
...and kept working on these ones.
I worked on this spinning (and finished plying it today, drying now, nice photo when it's done hopefully)
...and I plan to start this one next.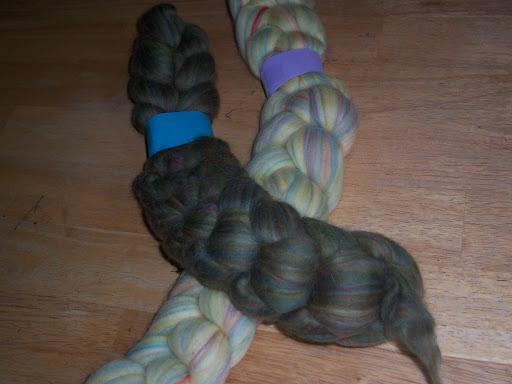 I'm planning to try to make a thicker yarn and I'm toying with the idea of alternating the two colors (both are 100% Merino). They are sage and daffodil, the green isn't quite right in the picture though... We'll see what I do when I start it.
So that means I have kept up with the Tour de Fleece so far, spinning a bit every day, and so far have finished two seperate yarns (yardage and wpi info still to come for both of them)
I have also been doing the
Hundred Push-up Challenge
. I've been doing this every M/W/F and I was supposed to start week 5 this week. Instead of that, I figured I would do week four again, but this time do the middle column (I've been doing first column so far every week). And then next week I'll do week 4 again but do the right most column instead, and then start week 5 the following week, following the same pattern, so for the last three weeks (4, 5, and 6) I'll do them each three consecutive weeks, working through the columns. Make sense? So that means that yesterday I did 90 pushups over the course of about 15 minutes.