Since last we spoke....
I have been tending the kids, discovering the wonderful smell of line dried clothing (not everything, I'm not crazy, just a couple batches here and there to ease up on the electric bill while we have our window ACs on), enjoying the strawberry jam we made, researching some genealogy (some certificates from England!!), tending the garden (so many green tomatoes!), and alternating between watching instant netflix at night, and sleeping through (well, 5 hours is almost through the night, right?) and...
I have been spinning! Finally!
Tour de fleece
was the push I needed, and although I didn't sign up I did take it as an unofficial challenge. I started on July 4th (as my husband had the day off and I had a few minutes to start!) I have been spinning things out of my stash, and spinning a bit every day (well, one day I spent finishing the yarn, but still spinning related). So I finished this: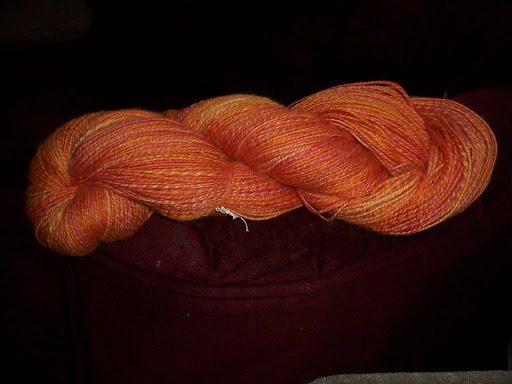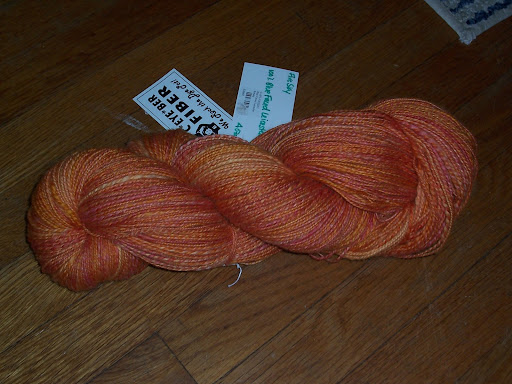 I received that for Christmas from Lily and sweet husband. The color is somewhere between those pictures. It took about a week between start time and when the finished yarn was dry. I haven't measure the length yet, but it was slightly more than 8 ounces, and it sure looks like a lot there now :) It is called Firesky (BFL) and is dyed by
Mama-E
bought through
Creative Fibers
.
I am still working on my pair of socks...
...and I started a pair for my sweet husband.
I even pulled out another roving (purchased last year at rhinebeck) and have it half spun now.
I've even been sewing! I've so far made 2 small cloth bags,
(one for me)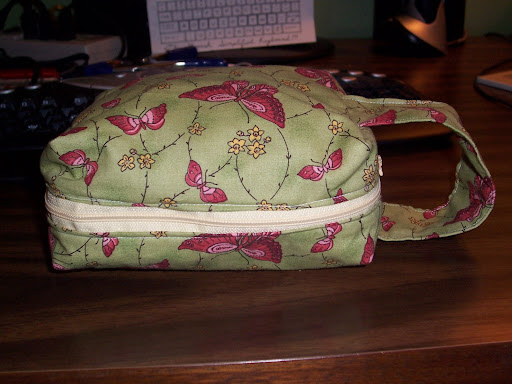 (and one for Lily)
a wrap skirt and peasant blouse for Curly,
and we're planning an outfit for Lily.
This has been thanks to my younger sister coming over the past 2 days and spending her time holding Tomato-boy and playing with the girls.
And finally, I have pictures of the wrap I finished. This is something I started just days before going in to the hospital. I worked on it a bit there, and then a bit whenever I got the chance over the past weeks. I've had it finished for about a month now, I haven't blocked it and don't think I will. I'm planning to use it in the fall, during the time buildings transition between AC and heating.
It's a very simple pattern, two different rows on the front (really the same, just offset), and purl across the back. It's fittingly called the Stolen Moments Wrap! I really enjoyed making it and will probably do it again sometime when I have pretty yarn to show off.